As the Chef and Owner of Brisbaneís most esteemed restaurant, Esquire, Ryan Squires ...
has earned nationwide acclaim. Esquire focuses on inventive cooking, seasonal ingredients, and sustainable produce. The eco-conscious chef is famous for showcasing bycatch fish, such as moonfish, mullet and catfish, which are unintentionally caught by fishermen. ďI havenít eaten tuna for 10 years,Ē he says. The Queensland native, dresses for the balmy weather in cool neutral tones, breathable fabrics and splashes of his favourite colour, ocean blue. ďI subscribe to a selective approach to fashion, too,Ē he adds.
Youíve worked in the food industry for over 20 years. What drives you?
The creativity is what really drives me. I live next door to a fresh food co-op on the Gold Coast and whatever theyíve got, I figure out how Iím going to serve it that night. Iím a big supporter of sustainability, especially in seafood. Iím a keen angler and thoroughly enjoy fishing, but I donít do it as much these days. Killing so many beautiful big fish made me realise that this is not forever. Species like tuna are not sustainable.
Have you had mentors or people who have been instrumental to your career?
No, not necessarily. To be inspired or to be influenced are two different things. To be inspired by someoneís accomplishments, thatís absolutely valid. But copying them is a big no-no in my industry. Itís important to find your own way of doing something. Thomas Keller, the Chef behind French Laundry in Napa Valley where I worked for a period, has been an inspiration to me. But not so much the dishes he creates as the way he orchestrates his restaurants.
How do you stay motivated?
To keep motivated in my industry, itís important to rejuvenate yourself. Take a month off, travel, eat and drink. I like to go to Japan for Christmas to completely escape, and enjoy the mayhem of their snow season. Viewing your business as a hobby or a passion also helps. Having an outlet for fitness is important, too. Iím not a runner but surfing or doing laps in a pool help me ensure I have healthy outlook.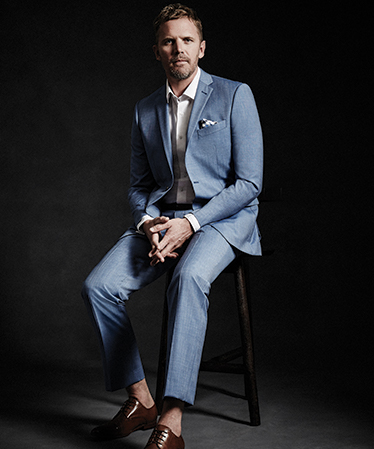 Whatís been the best advice that someone has ever given to you?
There is not one piece of advice that altered everything. My life experiences are what have shaped me. Find out what you want to do and then pursue itóthatís a good start. In my case, it was quite easy. I wanted to work for the best people in the industry, so I did. I worked for three or four highly-regarded chefs around the world, and applied the learnings to my own business back in Australia.
How do you step up your style for summer and the festive season ahead?
The Queensland weather plays a huge part in how Iím dressing, and I tend to keep it fairly minimal and comfortable. Iím drawn to light-coloured suits, lightweight fabrics and shades that suit my skin and hair colour. I wear a lot of neutrals and a lot of blue. It works for me.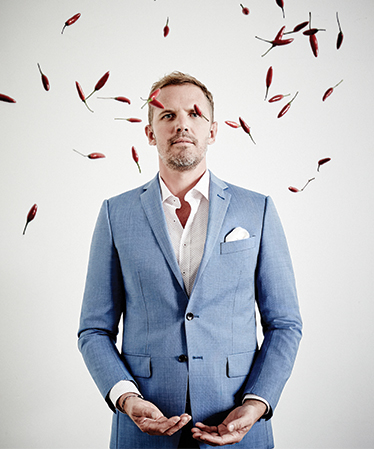 Are Chefs rock stars now?
No idea. But Iím not a fan of arrogance or attitude. Itís incredibly important to engage with people, and I would never want to come across as unapproachable. Remaining grounded is important.



---
Discover the vibrant menu of Modern Australian dishes at Chef Ryanís award-winning restaurant:

Esquire
145 Eagle St, Brisbane, QLD
Ph: (07) 3220 2123
Visit: esquire.net.au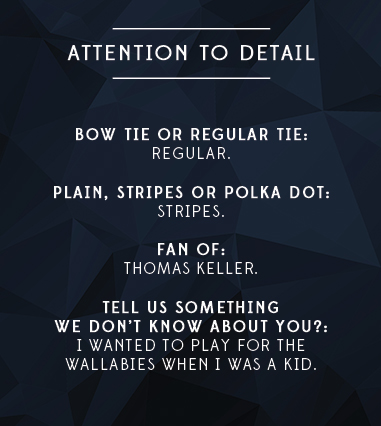 Posted on November 9, 2016