Beard Season may sound like the name of a dive bar...
in Brooklyn, but itís actually a non-profit initiative started by Sydney native Jimmy Niggles. After a friend, Wes Bonny, passed away from skin cancer at 26, Niggles was prompted to action. He grew a long, luxuriant beard as a means to focus attention on the dangers of skin cancer, and to start a conversation about early detection among men. Niggles, 33, an Instagram influencer with over 70,000 followers, teams his hirsute statement with nattily tailored pieces. ďI do get called Ned Kelly quite a bit,Ē he says, though we doubt the outlaw had such great style.
Can you explain Beard Season to the uninitiated?
Beard Season is a non-profit charity that encourages men to grow their beards for winter, get a skin check with a dermatologist, and use their beards to inspire others to get a skin check. It all started after we lost one of our best mates to melanoma. Now, every winter, we have thousands of people around the world who grow their beards. As for me, I havenít touched a razor for six years.
Does sporting a long beard impact on your dress sense?
Yes. When youíre growing a beard, you need to compensate in other ways. I keep my hair neat and short, because long hair and a beard can look a little caveman-like. You need to complement the face furniture with sharp shirts, well-cut suits and an attention to detail.
What items canít you live without?
A good watch, cotton shirts and nice fitting jackets that work with jeans or trousers. Just add a pocket square and you are virtually bulletproof. Itís a simple way to look respectable for those first impressions. Iím a country boy and I gravitate to practical clothing that stands up to wear and tear and goes the distance.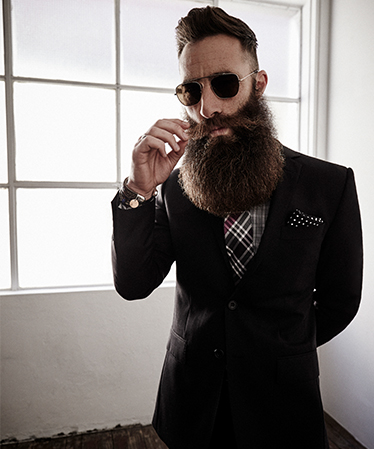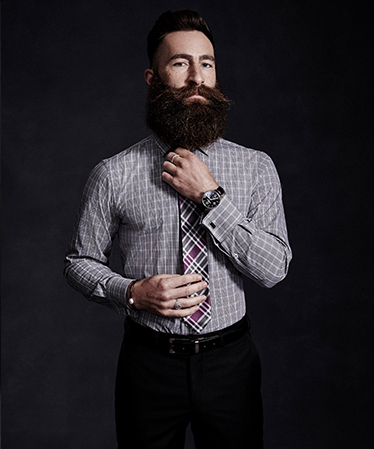 Any advice on dressing for the racing season?
The races can be tricky, and many have different themes. But donít be afraid of dressing up a little, or adding a flower to your lapel. If you wear something invested with a little more personality you will stand out, and youíll likely end up meeting more people. A broad brim hat looks amazing with a suit, and youíre also guarding from sun damage.
What does it mean to be a modern-day gentleman?
If you dress like a gentleman, try and act like one. If you look a million dollars when you leave, donít come home looking like spare change. Being a gentleman involves your decorum, your manners, and being the best you can. Try and remember peopleís names, introduce yourself, and let the well-made suit youíre wearing carry you and guide you.
How do you define success?
It should be different for everyone. But itís less about materialistic possessions and more about the people in your life, the arc of your work, the time and effort you put into things. Success is not necessarily something you arrive at but something youíre always striving for. You want to be better at who you are, at what you do and your impact on people in your life. Youíre never going to be perfect, itís about getting better little by little.
Have you had many mentors in life?
This might sound mystical, but I feel that my mate who passed is guiding me. I have a good support network of friends, and both my parents are amazing and influential. Itís important to ask people questions, to ask for feedback, so that mentors can pass on their knowledge in a more honest way. Mentors are vital because you donít know everything.
Learn more about Beard Season, a non profit charity turning beards into life saving conversation starters.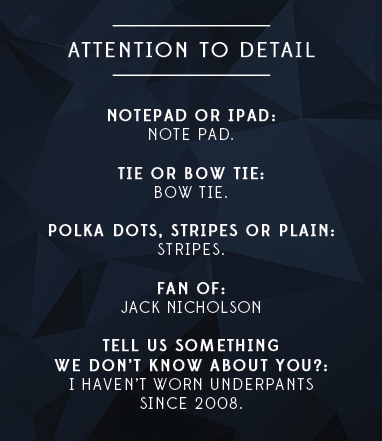 Posted on March 13, 2017