As a cool-headed Professional Athlete, Jarrad McVeigh, 31, sets an example both on and off the field.
In a professional AFL career spanning more than a decade, McVeigh has played 283 games, scored 192 goals and made the number 3 guernsey one of the most electrifying to watch in the game. His laser-focus on the oval is carried over in his mindful approach to fashion. McVeigh is an athlete who derives pleasure in looking polished. ďAs one of the club leaders you want to look respectable all the time,Ē says the man whose taste in shoes extends way beyond cleated football boots. ďI like to dress well when I go out.Ē
You made your debut for the Sydney Swans in 2004. How do you keep the momentum?
Itís all about winning a premiership, and the chance to play in the finals. Iíve won one before so I know that itís all worth it when you start training in November. I love coming to work every single day, and that hasnít wavered over time. I get to train every day with 45 very good friends, and we get outside more often than not, so itís continually fun for me.
Youíve also had the opportunity to coach your own team. What was that experience like?
I was lucky enough to be able to coach the team in the pre-season. At that point I was injured so I wasnít playing. Rather than having the coach telling us what to do, the focus was more about us learning how to form partnerships in varying situations. It offered me a different perspective on the game. I learned a lot and the boys did too I believe.
How do you mentor younger players coming into the team?
There are eight of us in the leadership crew, and each one looks after two or three players. First and foremost, itís about helping them deal with being away from home. Theyíve come out of school at 17, and theyíre living away from their families and friends. The training regime of AFL is all-consuming, you have to sacrifice a lot, so we try to teach them how to cope with those demands. Ultimately, you want them to have 10- to 15-year careers.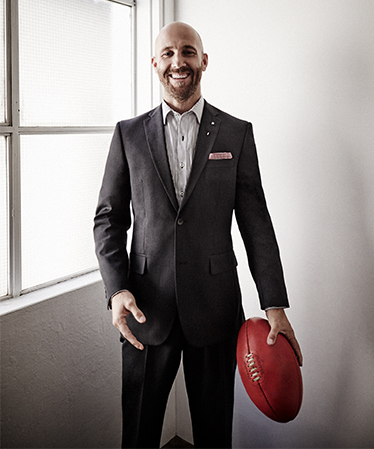 How would you describe your personal style?
Iím fairly casual since Iím constantly going to and from training. Iíve probably got three or four things that I tend to wear throughout the day. My style has evolved since I met my wife, and she can definitely take credit for it. I love buying leather shoes, thatís one thing I do splurge on.
Do you enjoy getting dressed to the nines for an event?
I doóitís not often we get to wear a suit. We have events like the Brownlow and itís fantastic getting primped for those. Of course, our better halves look a lot better than us. Iím actually one for wearing suits to games, but the coaches have pulled rank on me there. I think it looks smart rocking up to a game in a suit. You see the American stars doing it and they look good.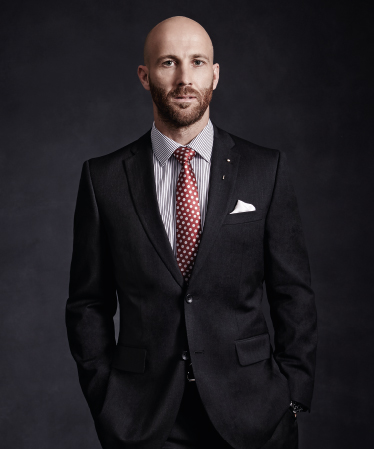 Youíre passionate about your charity work. Can you tell us a little about that?
A charity I support is HeartKids. Our first-born daughter passed away after a month to a heart condition, and itís important for me to try and raise awareness of childhood heart disease. Glenn Archer and I started the HeartKids Cup in 2012 to raise money for the cause. Today, coincidently, is the 5th anniversary of my daughterís passing, so itís very close to us.
If you could give your younger self some advice what would it be?
Donít sweat the small things. You can go through all types of challenging situations in your life but the little things don't matter. Itís your family and their health thatís most important.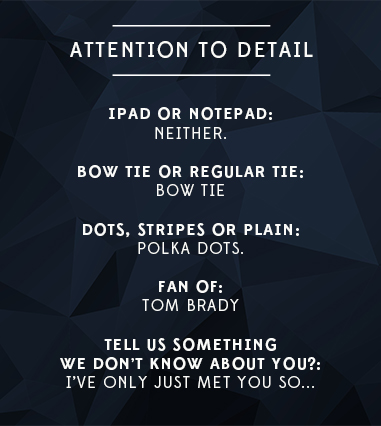 Posted on September 11, 2016