He is one of the most successful Australian swimmers of all time, winning some 16 medals across the World Championships, Olympic Games, Commonwealth Games and National Championships...
But true champions are not just those who make it to the top – but those who get back up when the going gets tough. Today, Magnussen reflects on this year's Commonwealth Games where he achieved one fairly simple goal: Gold. "There's nothing I would change," he says, reflecting on his career. "I live my life without regrets."
You've had ups and downs in your career. What have been some of the highlights?
2018 Commonwealth Games gold Men's 4x100m Freestyle, 2011 World Championship gold in 100m freestyle, 2013 World Championship gold in 100m freestyle, competing in two Olympic Games as a proud member of the Australian team. Plus, meeting a lot of great people who have become close friends and mentors for me in my life.
There have been some setbacks along the way. Do those make you appreciate the successes even more?
Yes. Success is magnified when it is achieved through overcoming adversity. When you understand what it feels like on both sides of the coin I feel you have much better perspective and sense of gratitude around your sport and the results.
How difficult was it to get back up and keep going?
It is always difficult but you just have to keep moving forwards. I am someone who has always been able to face the challenges head on, deal with them to the best of my ability, and then move forward.
Did you ever have days when you wanted to throw in the towel?
No. I stay motivated and the people around me are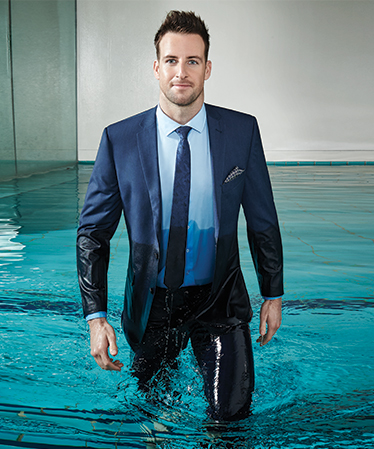 the same. I feel fortunate to work with a great group of people and I like to think we are able to inspire each other and lift each other up on those tougher days.
Celebrating success is a no-brainer, but do you think it's important for kids to learn about failure too?
There are two outcomes of competition – winning or learning. Failure is a vital tool for development and I think that it is really important to instil this into young athletes, for them to understand that it is all a part of the process. No matter what field you pursue in life you will have great days and you will have some really challenging days. Your perspective and response in these moments will have a significant impact on your quality and enjoyment of life.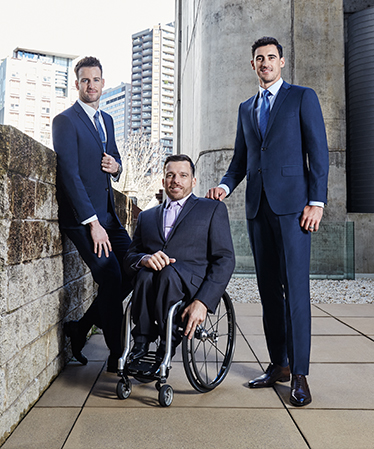 What do you know now that you wish you did then?
I wish I had more belief in my abilities from a younger age.
There was a huge amount of pressure on you, especially around the London Olympics. How do you handle it?
I expect, accept it and try to embrace it. The great American tennis player Billie Jean King once said "pressure is a privilege" and I think that is really true – as an elite athlete you have to accept it and make it work for you as much as is possible.
What's the best advice you've been given by a coach or mentor?
Embrace criticism from those you care about and ignore it from those you don't.
Who are some of your mentors?
My father, my coaches past and present, and anyone in my inner circle. They've all given me advice in the tough times and have kept me grounded in the good times.
What qualities make a good mentor, in your mind?
Experience, respect and success.
You get to go to a few A-list events these days, do you have a go-to red-carpet look?
I always wear a full suit and make sure I match all my accessories – shoes, belt, watch, socks and tie.
If you only had three words, how would you describe your own style?
Simple, modern, tailored.
Are there any wardrobe items you can't live without?
A tailored white business shirt, which can be worn with any outfit; slim-fit chinos, which cover a number of dress codes; and a loose fitting singlet, which you can wear around the pool deck and at the gym.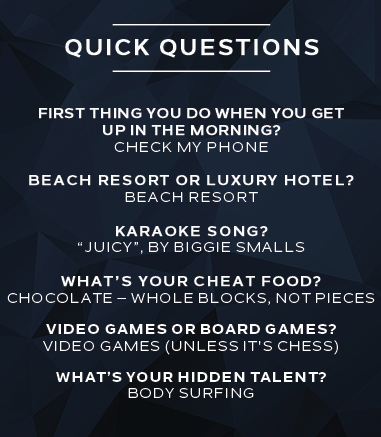 Posted on May 29, 2018