Little-known fact: the picture-perfect outfits you see on billboards and in magazines are as much a creation of a stylist as the designer themselves.
We asked Emma Fagg – a menswear stylist whose work has graced the pages of GQ – for her best advice.
What are the most common, easy-to-fix style mistakes you see guys making?
Overstuffed trouser pockets that cause strange bulges. Slim down that wallet and get rid of all unnecessary cards and receipts. Hint: if you haven't used it in the last couple of months, you probably don't need it. Another one is suit jackets and blazers being buttoned incorrectly, causing them to pull in awkward directions. Here's the rule: two-button jackets, fasten top only. Three-button, you have the choice of top two or middle. Double-breasted should almost always be done up, leaving bottom undone. And when you're seated, always undo your jacket.
What's an easy way for a guy to update his look?
An affordable way to bring new life to your wardrobe is to have your favorite pieces professionally cleaned. Take your leather derby's to the cobbler and have them re-soled and shined and your shirts to the dry-cleaner to crisp up those collars and cuffs.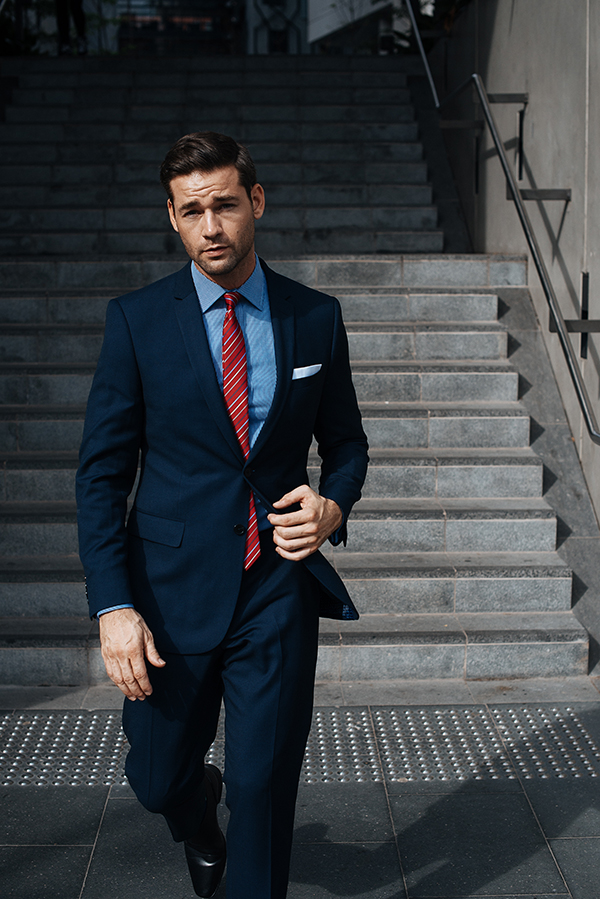 Just how important is fit?
Men seem to underestimate how essential fit is. They think they can pull their size off the rack and be done. Every man has a different body shape and every brand has a different fit. The difference between the average man and a well-dressed gent is how well his clothes are fitted.

One example: I see a lot of guys wearing ill-fitting trousers. They seem to think it only matters that they fit around the waist. The length of your trousers and how they fall and finish at your shoes is very important. If you're not sure, ask the store staff or seek a stylist's advice. I also suggest finding a tailor who can alter pieces to fit correctly.

Tip: Check out the Van Heusen Fit Guide to find your perfect fit.
What's a perfect date outfit for the modern guy?
A tucked-in shirt and trouser with belt or a blazer, t-shirt and chinos. All well-fitted and ironed of course.
What do you wish guys did more of, style-wise?
Embrace their own style. I find a lot of men stick to a particular 'uniform' they think they need to wear without experimenting and trying new pieces that would suit them. If you're not sure what you're style is or how you want to dress, I suggest looking at celebrities or fashion blogs to see what is out there and what takes your interest. Then go into stores and try things on to give you a feel of what works for you.
What are some of the ways guys can look more like the magazine-ready men you've styled for work?
The looks I've styled for photo shoots are always very well thought out. Plan your outfits the night before so you avoid the morning rush. This way, you have time to match accessories, like the perfect tie-pocket square combination. Don't forget these details, as it adds that extra dash to the overall look.

TIP: Follow Van Heusen on Instagram for Style updates.
Posted on October 24, 2016